Kolejna dawka fajnych i zmodyfikowanych przeze mnie pomysłów pomoże Ci lub zainspiruje Cię do działania. Rzecz jasna, że w Internecie znajdziemy "wszystko", zmodyfikujemy na własne potrzeby każdy pomysł czy zadanie. Podsuwam jednak moim zdaniem pomysły, które całkiem niedawno sprawdziłam i …przechodzę do konkretów 😉 Ready, steady , go!
Podłogowe puzzle
Powodzeniem na moich lekcjach cieszyły się puzzle podłogowe, na których umieściłam pytania w języku angielskim.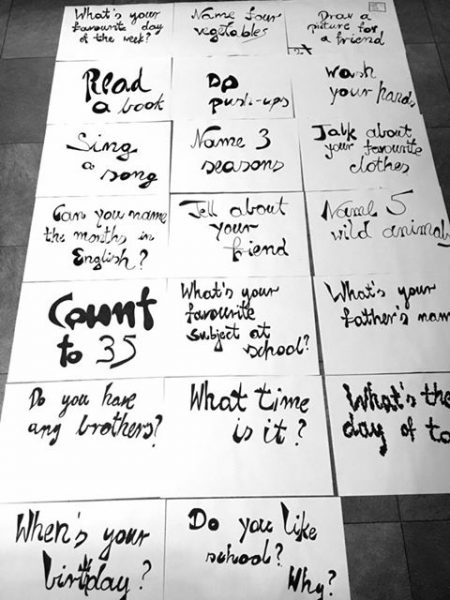 W klasach IV trochę zmodyfikowałam to ćwiczenie, gdyż uczniowie postanowili zapisać je w formie książeczki.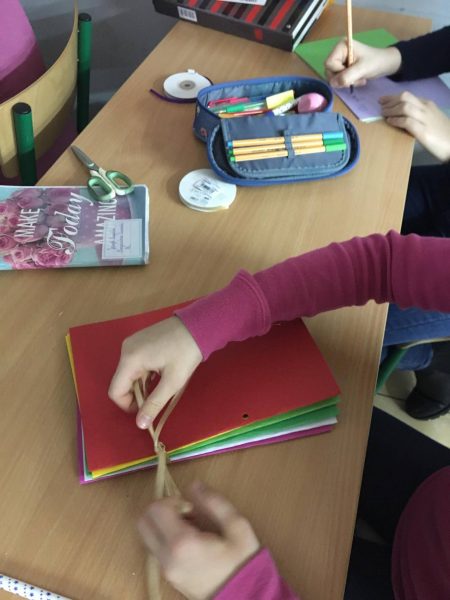 Poczuli bluesa i działali, naprawdę! Nie spodziewałam się takiego efektu i takiej radości  podczas "łamania języka" czyli zadawania pytań i udzielania odpowiedzi. Przecież o to chodzi, aby komunikacji było jak najwięcej podczas zajęć.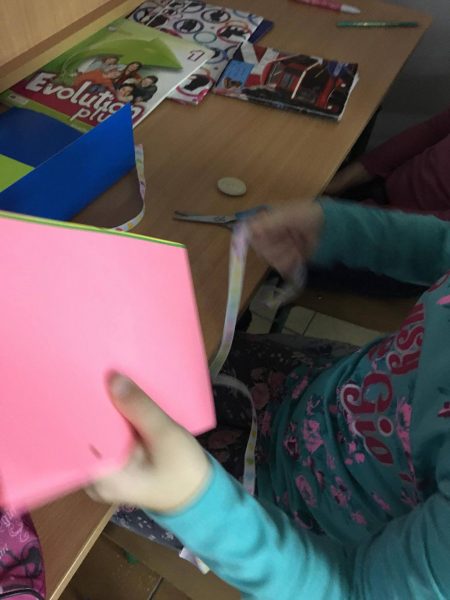 No i tak sobie powtarzaliśmy, utrwalaliśmy, systematyzowaliśmy wiedzę, ucząc się wzajemnie, w parach, grupach i indywidualnie. Wisienkę na torcie zostawiałam na koniec, czyli wywiad właśnie ze mną: gwiazdą muzyki pop. Wyobraźcie sobie co się działo. Uczniowie wybierali pytania, które chcieli mi zadać w wielkim pośpiechu i … śmiechu było co niemiara. To by było na tyle 😉 Tak przy okazji, jeżeli zdecydujesz się na grę podłogową pamiętaj o bezpieczeństwie dzieciaków. W tym kontekście dwustronna taśma klejąca króluje. Grę można jeszcze mocniej modyfikować – zależy od Twojego pomysłu 🙂 Jeżeli nie masz pomysłu,  radzę wskoczyć na bloga English Freak, gdzie masz podane jak na tacy pomysły na gry.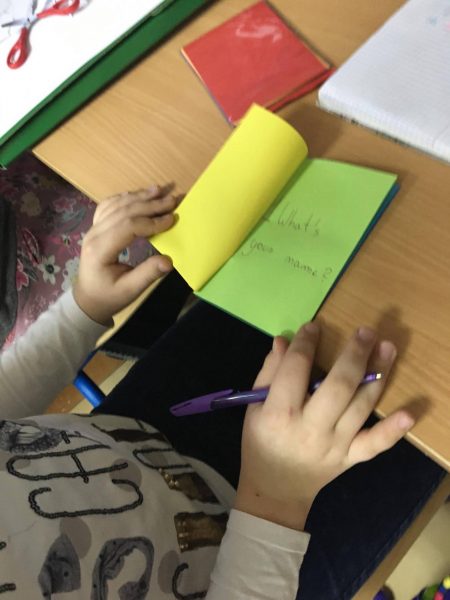 Koło fortuny
Kolejna atrakcja, moja ulubiona, to "koło fortuny" (classtools.net). Małe, duże, kolorowe czy czarno-białe, jest to genialne narzędzie pracy do wykorzystania na różne sposoby. Kręcimy, kręcimy i w zależności od materiału, który przerabiasz, dostosowujesz pytania, na które uczeń powinien odpowiedzieć lub zdania, które ma przetłumaczyć, czy słówka, które ma zaznaczyć lub wyszukać.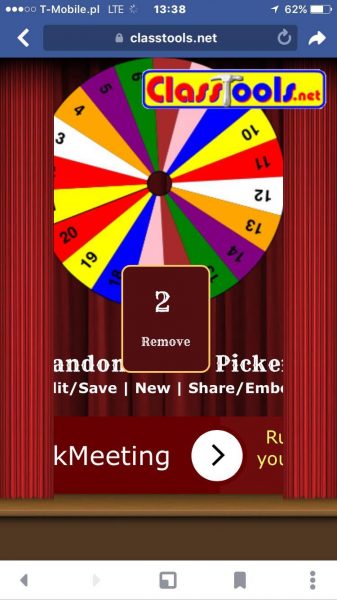 Uwaga, uwaga! Wcześniej musisz przygotować zadania w kopercie i oznaczyć cyfrą… Dla zabawy można podkręcić atmosferę wprowadzając zasady typu: czekasz dwie kolejki, zadaj dodatkowe pytanie koledze, itp. Wszystko zależy od Ciebie jak poprowadzisz koło fortuny.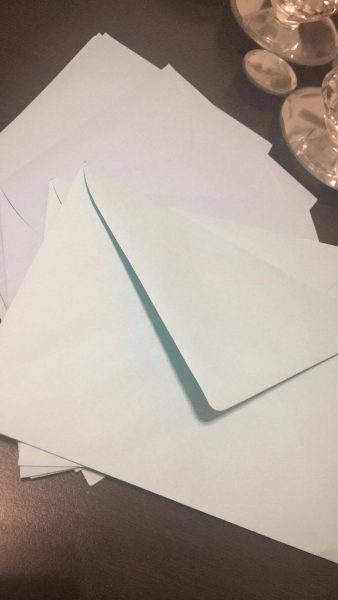 Szkolny plecak pełen niespodzianek
Postanowiłam cofnąć czas i wrócić do szkoły, dlatego wykonałam plecak. Postanowiłam zaszaleć i wykonać duży plecak, bo jak każde dziecko do szkoły muszę wziąć wszystko. To zabawkę, to notesik. Byłam tego dnia numerem jeden na  korytarzu,  ponieważ mój plecak był tak duży, że uczniowie, moje pierwszaki, pomagali jak tylko mogli.  Podczas zajęć często zapominałam zapakować potrzebne przedmioty szkolne, tak dla fanu, a pierwszaki jak to pierwszaki – przeżywali i pomagali. Przemyciłam  jednak zwrot: I have got, I haven't got… i to było najważniejsze!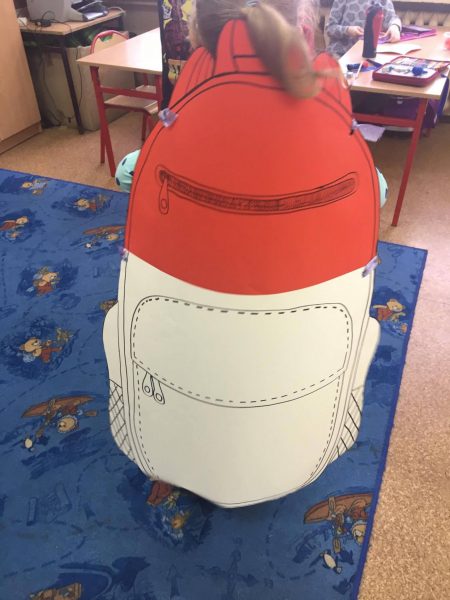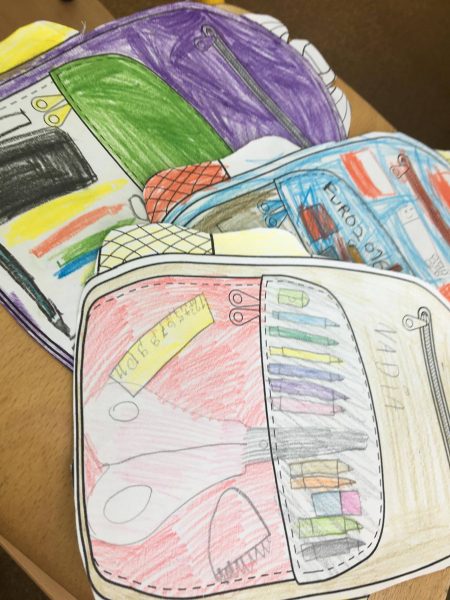 Gramatyczna wizualizacja
Wizualizacja podczas omawiania struktur gramatycznych to jeden z moich priorytetów.  Inspiracją okazała się pewna książka, która wzbudziła we mnie artystę-lwicę. No, może przesadziłam, ale zainspirowała.  Niby nic takiego: kartka papieru, pisak, a zainteresowanie ucznia przedmiotem osiągnięte w 100 procentach. Wiadomo, że każdą grupę wiekową uczmy innymi metodami. Wszystko zależy od naszego podejścia, wybranych metod czy technik,  ale także od grupy. Musimy być świadomi, że w młodszym wieku dzieci uczą się przez naśladowanie, a w klasach starszych (4-6) trzeba ich jeszcze zainteresować, zaciekawić  przedmiotem.
Uczniowskie prezentacje
Czasami potrzebuję czegoś tak na szybko, tak bez wielkich przygotowań, bez drukowania, kserowania. Prezentowanie przez ucznia tematu po swojemu okazuje się czymś bardzo fajnym. Wykorzystajmy to, że dzieciaki chętne są do działania, do tworzenia, do czynnego udziału w tworzeniu lekcji. Byłam dumna i z wielkim zaciekawieniem przyglądałam się jak tworzą samodzielnie pomoce do nauki czyli gry. Pełne zaangażowanie i dobra recepta na  gotową lekcję. Pozwólmy uczniom współtworzyć zajęcia, to ich bardzo zmotywuje.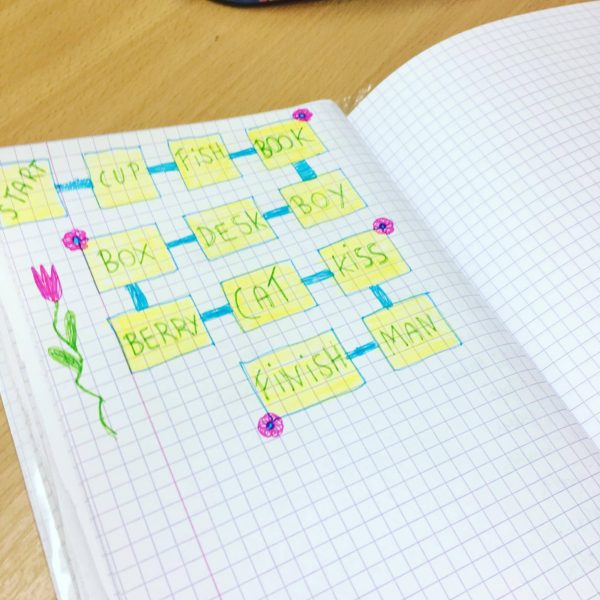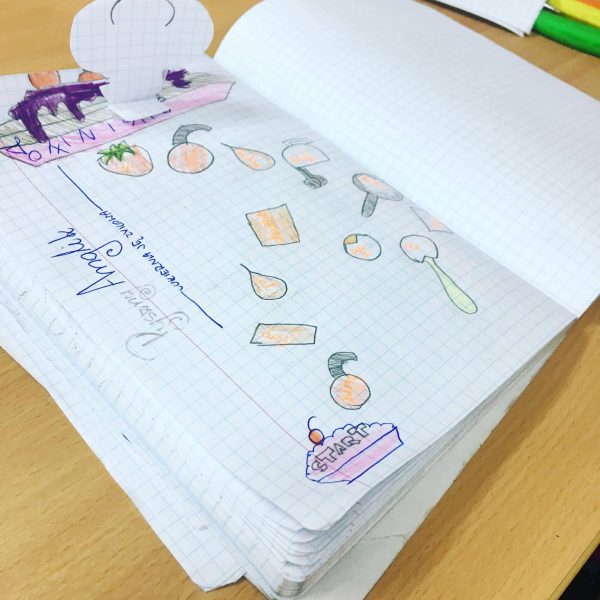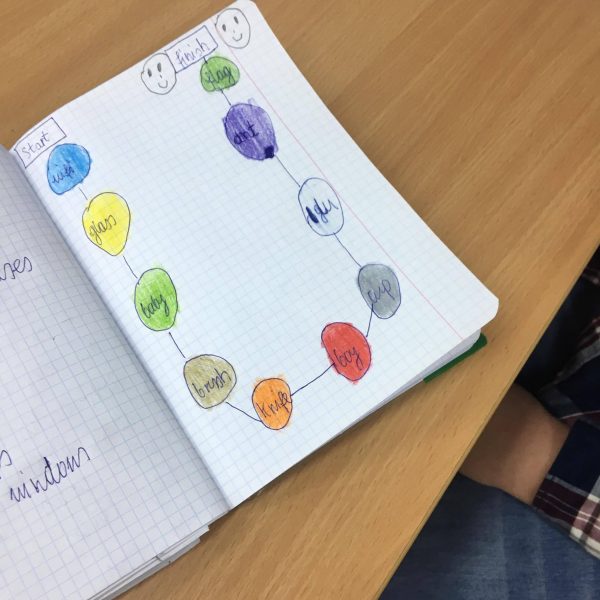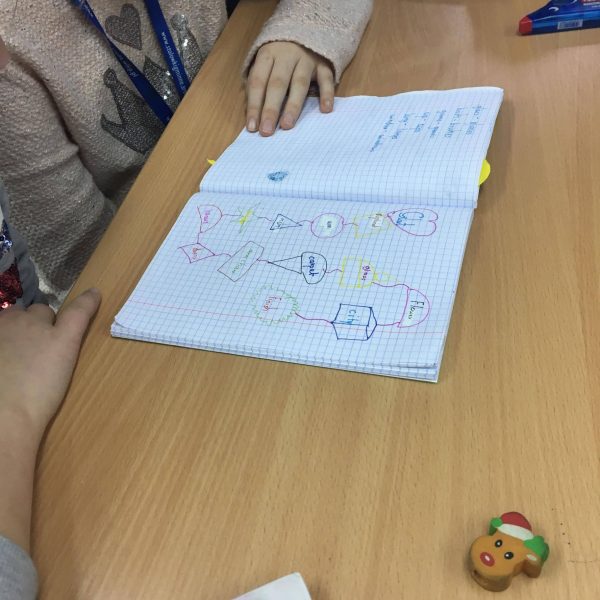 Mile widziane komentarze, w których podzielisz się swoimi pomysłami 🙂