Kolejny rok, kolejne wyzwania! Poniżej pokazuję moje pięć trików na ciekawe zajęcia językowe. Czego potrzebujesz? Kartek, nożyczek, może trochę inwencji twórczej, szczypty dobrej woli i …oczywiście wspaniałego humoru 🙂
Trik #1
Mam plecaczek drukowany…
Celem lekcji było powtórzenie nazw przyborów szkolnych. Klej, nożyczki i obrazek z dużym plecakiem okazał się strzałem w dziesiątkę. Zadaniem ucznia było spakować potrzebne przybory szkolne… Wzięłam się więc do roboty! Wydrukowałam duże plecaki, na których należało  nakleić karty z rzeczami potrzebnymi do szkoły. Ile rozmów było miedzy nimi i zastanawiania się co takiego należy wziąć do szkoły! Efekt końcowy naszych działań mówił sam za siebie: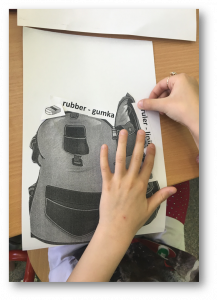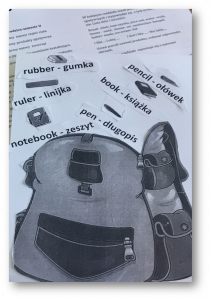 Trik #2
Palcem po mapie
Doskonałą okazją do stworzenia kolejnego materiału był dzień spędzony w Zoo. I tak, będąc tam, wpadłam na coś szalonego… Mapka, którą otrzymałam przy wejściu, aby poznać trasę zwiedzania posłużyła mi do realizacji następnego zadania. Tak, zwykła mapka, a myślę, że służyć może w różny sposób. Od wprowadzenia słownictwa Wild Animals, po wskazywanie drogi, czy też opisywanie zwierząt i kierunków świata. Podczas zajęć uczniowie postanowili opisać zwierzęta, które zostały umieszczone na tej mapce. Oprócz struktur gramatycznych uczniowie powtórzyli przymiotniki, części ciała, kolory, a nawet liczby!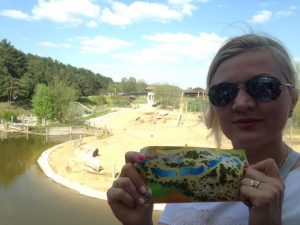 Trik #3
Czasownikowe zawody piłkarskie
Tym razem czasowniki nieregularne… zmora moich uczniów. Pewnie nie tylko moich 😉 Bardzo często sygnalizowali pewną niechęć uczenia się ich w sposób tradycyjny. Dlatego też zrobiłam im niespodziankę i na małych kolorowych piłkach umieściłam formę podstawową, formę przeszłą i tłumaczenie. Było praktycznie i efektywnie, gdyż tworzyliśmy zdania świetnie się przy tym bawiąc. Aby mieć pewność, że uczniowie opanowali czasowniki postanowiłam wykorzystać gotowe karty ze słówkami, które znalazłam w necie. Wycinali, następnie dopasowywali formę podstawową z formą przeszłą. I nie było to takie proste dla wszystkich 😉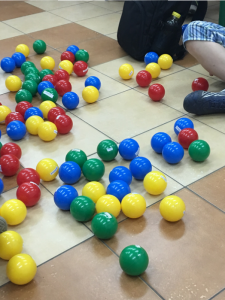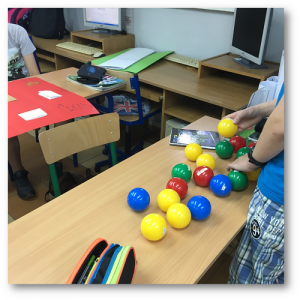 Trik #4
Kto gra w karty…
Podczas wprowadzania kolejnego pomysłu bazowałam na kartach obrazkowych  i wyrazowych, które wycięłam w okrąg. Nie ukrywam, że karty obrazkowe to jedne z moich ulubionych narzędzi pracy. Dlaczego w taki sposób wycięłam… hmmm… żeby było inaczej niż zwykle. Następnie  na dywanie rozłożyłam wyrazy,  a obrazki losowali uczniowie. Po pierwsze, uczeń nie wiedział jaki obrazek wylosuje, a po drugie gdzie znajduje się jego nazwa. Biegali, szukali, podglądali. Była więc frajda, ale nie tylko zabawą żyjemy, więc zadania podsumowujące, również się znalazły. Oczywiście zabawę można powielać w różnych konfiguracjach. Możemy się też bawić ciepło-zimno używając tychże kart. Jak kto woli.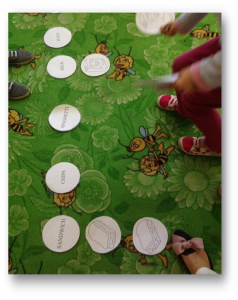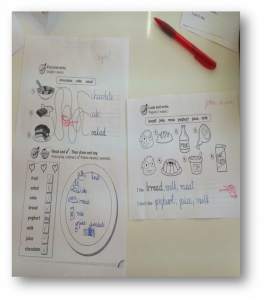 Trik #5
Zakupowy potwór
Dalej pozostaję w tematyce jedzenia. Przedstawię jednak zupełnie inną formę przeprowadzenia zajęć. Często podczas lekcji  uczniowie oglądali krótkie filmiki, które zawierały zwroty: 
Do you like … ?
– I like… /I don't like…
No i pojawił się Hungry Monster, który rozdał uczniom koszyczki, do których przyklejali podane produkty spożywcze (w sensie: ich nazwy 😉 ). Szybki sposób na zapamiętanie zwrotów. Niesamowita radość pojawiała się na twarzach uczniów kiedy to głodny przyjaciel szukał czegoś do zjedzenia.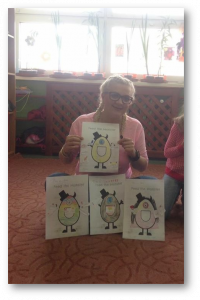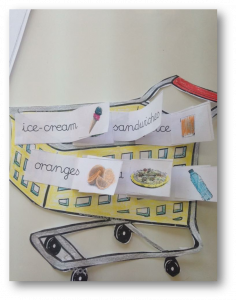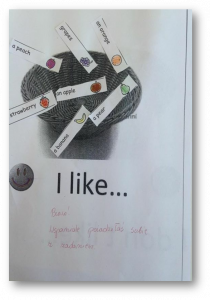 A jakie Wy macie triki na znane zabawy i pomoce dydaktyczne? Czekam na Wasze komentarze 🙂
Ewa.