Przez ten zaganiany a jednocześnie spokojny, grudniowo-noworoczny czas doszło do mnie parę refleksji na temat mojej pracy i jej efektów.  Poznajcie moich 8 refleksji  na temat nauczania językowego 🙂
Ma być przyjemnie
Nauka w najlepszej postaci to, w przeciwieństwie do monologów, wykładów, podawania informacji na tacy, zmuszania dzieci do siedzenia i nie ruszania się przez 45 minut, twierdzenia, że jest się alfą i omegą nie znając sposobu funkcjonowania mózgu, tworzenia skojarzeń itp. i pomijania faktu, iż naturalną formą nauki jest zabawa, świetna atmosfera i nauczyciel bez kija w pupie… to nauka jest moim zdaniem czymś przyjemnym. A przynajmniej powinna taka być i moim zadaniem jest ją do takiej formy przybliżyć. A formy to mam różne, również takie na świąteczne ciastka, które razem z moimi piekliśmy na zajęciach z wypiekami na twarzy godnymi najbardziej entuzjastycznych i zapalonych kucharzy uczących się żywego języka (serio!) 😉 Uwielbiam takie prace na zajęciach! Raz na jakiś czas naprawdę warto!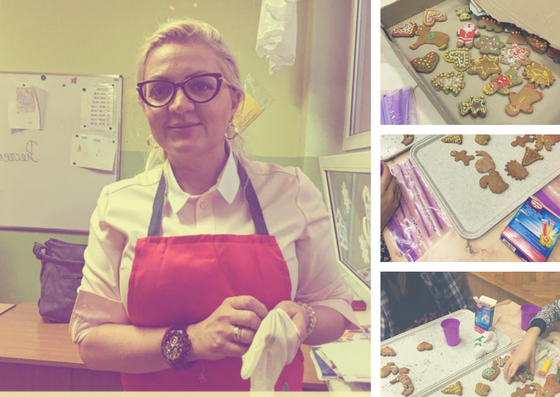 Piernikowe szaleństwo było takie jak lubię, czyli higieniczne i kreatywne. Atmosfera i zapach jak w domu…tylko dzieci trochę więcej 😉 Oczywiście zabawy świąteczne łączymy zgrabnie z ćwiczeniami językowymi, bo ta zabawa do czegoś prowadzić musi. A nauczyciel efekty pod koniec roku pokazać też… musi 🙂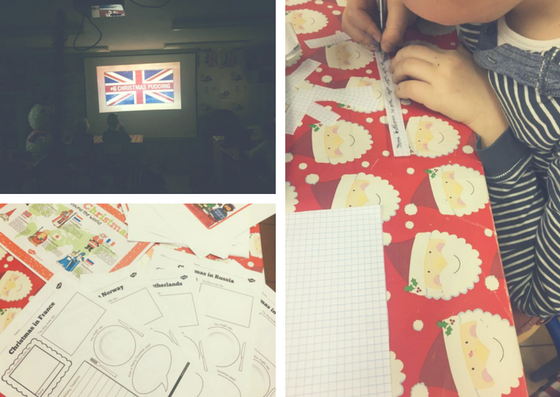 2. Warto odkrzesłowić
Piszę to i kieruję do tych, którzy myślą, że zabawa nie jest kluczem do sukcesu i mózgu dziecka. Osobiście uwielbiam wplatać na moje zajęcia zabawy, gry i po prostu FUN w każdej postaci, choć niektórzy nauczyciele w mojej szkole uważają, że to nie nauka. Czy wszystko co nie nosi znamiona grzecznego siedzenia przy ławce lub poważnego czytania z podręcznika musi być od razu dyskwalifikowane?
3. Wnieść kulturę i tradycję
Przeznaczyłam tylko 2 lekcje na zapoznanie moich uczniów z tradycjami Świąt obchodzonych na świecie… Wysłaliśmy Świętego Mikołaja do rożnych krajów, a na zakończenie wykonaliśmy Christmas Crackers z zadaniami z unitu z książki. Ciekawa forma powtórki na wesoło, która ułatwiła dzieciaczkom powtórzenie danego materiału (niby nudne, bo z podręcznika, ale okrasiliśmy sobie to świątecznymi bajerami należącymi do już nieobcej nam kultury).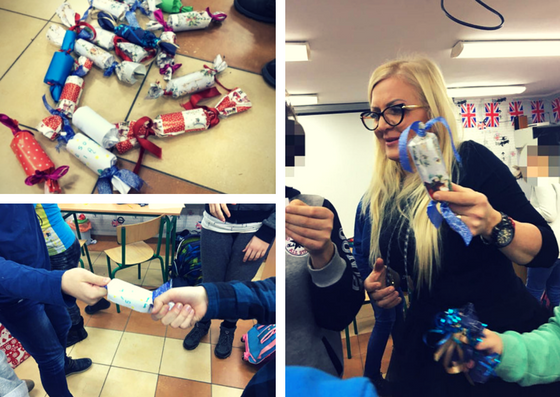 4. Motywować i tworzyć dobrą atmosferę
Tworzenie przyjaznej, pełnej akceptacji atmosfery na zajęciach jest da mnie niesamowicie ważnym aspektem nauczania. Zawsze dokładam wszelkich starań, by uczniowie wiedzieli, że mogą i mają być sobą, że mogą mnie o wszystko (no, prawie!) zapytać i zawsze im chętnie pomogę. Mam nawet kilka moich trików na generowanie takiej atmosfery, np. miłe karteczki świąteczne, albo upominki, które nie kosztują wiele a cieszą, lub taka oto kartka na zawieszona na drzwiach do naszej sali 🙂
"Przepraszamy, ze słychać wybuchy śmiechu, że jest głośno, że robimy zamieszanie na korytarzu, że działamy, skaczemy, ale my się tu uczymy, zadajemy pytania, zastanawiamy się nad rozwiązaniem oraz pomagamy sobie wzajemnie"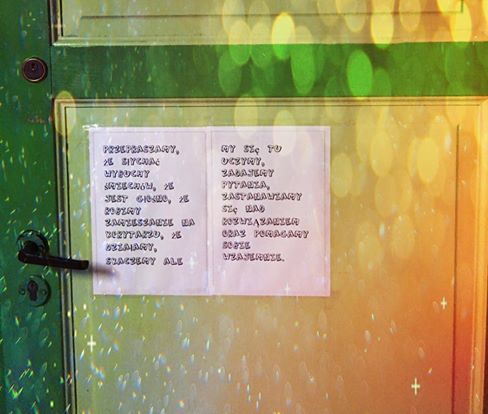 5. CLIL-u nigdy za wiele!
Lubię, gdy na lekcjach gości informacja inna niż tylko ta językowa. Lubię, gdy dzieciaki uczą się podstaw geografii, chemii czy historii. Dlatego ostatnio ze względu na okoliczności świąteczne stworzyłam ćwiczenie "Father Christmas around the WORLD" czyli: podróż Św. Mikołaja oficjalnie się …rozpoczęła 🙂 Tworzyliśmy kartonową mapę, na której zaznaczaliśmy kraje, które odwiedził i jakie w danym kraju panują zwyczaje. Pierwsza podróż: to the UK… Kolejna lekcja, kolejne kraje, kolejne zwyczaje. Otwieramy się na świat 🙂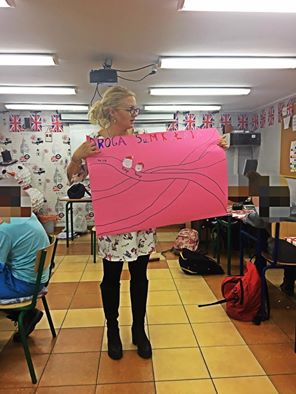 6. Grywalizacja
Podróż po krajach ze Św. Mikołajem wypadła świetnie, dzieciaki prowadziły zajęcia pod moim nadzorem. Opowiadały, pokazywały zdjęcia, przedstawiały prezentacje, a następnie przyklejały wykonanego własnoręcznie Mikołaja. Każda klasa miała swoją mapę… Ale naszykowałam jeszcze jedną niespodziankę – z elementem zaskoczenia! Kocham grywalizację i chciałam, aby pewien element frajdy i nieprzewidywalności został wpleciony w zajęcia powtórkowe. Przyklejanie, losowanie, wybieranie, punktowanie, przyklejanie, itd… 🙂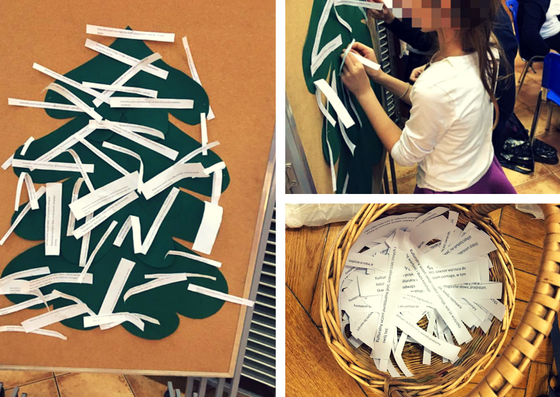 Co więc wymyśliłam? Torbę pełną prezentów, czyli różne zadania zebrane z "całego" półrocza i wrzucone do torby świątecznej, która sięgała mi do pasa! Była naprawdę wielka. Zapisz, wypełnij, uzupełnij i takie tam (foto po prawej stronie – na dole) 😉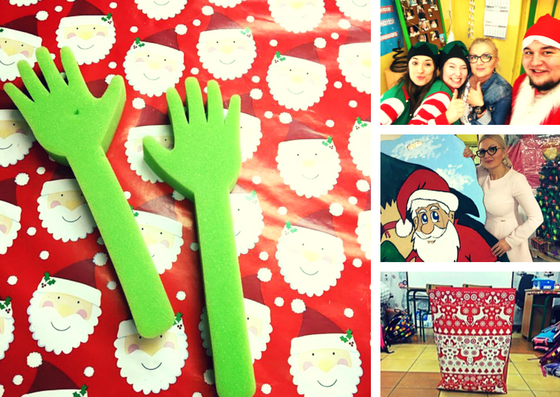 Jak już o frajdzie mówimy i grywalizacji, to… po co się zgłaszać, jak można to zrobić w zabawniejszy sposób? Łapki w górę, łapki w górę… blisko czy daleko, jeden przedmiot czy kilka …czy This/that/these czy those.. łapka pomoże, weź łapkę i działaj 🙂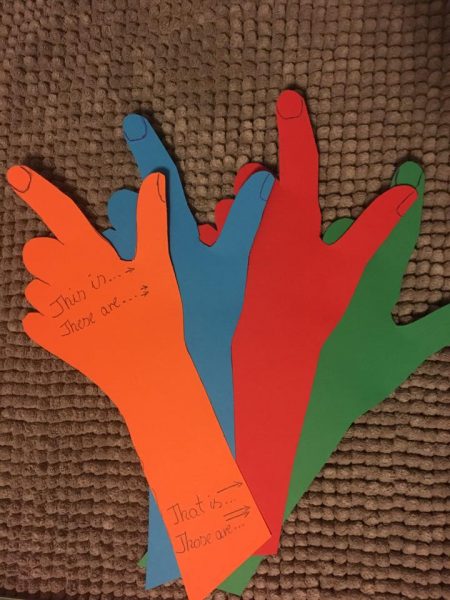 Efektywnie i kreatywnie sobie działaliśmy w naszej klasie. Dla mnie to było wprowadzenie do tematu, a dla uczniów balonowe szaleństwo trwało i dokazywali w najlepsze… Nawet jedna z mam czekających na korytarzu miała niezły ubaw – tak wesoło było 🙂 Uczniowie samodzielnie zapisywali wyrażenia, zadania, zdania. Następnie trwała zabawa w tańczące balony i na koniec booom… wielkie booom, boom i wylatywały pytania. Przebij balon!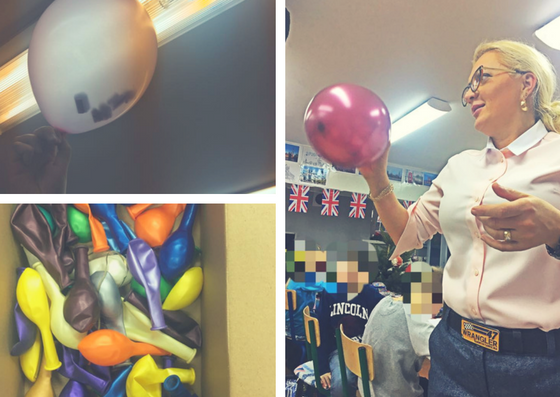 7. Autentyczność
Żeby być dobrym nauczycielem, któremu uczniowie ufają, trzeba być szczerym, autentycznym, otwartym i zawsze być sobą. Pozwalać też uczniom być sobą. Nie bójmy się upadków podczas drogi, którą podążamy. To wszystko kształtuje moją pracę w szkole, ale w tym roku odważyłam się i postawiłam na integrację międzyklasową. Wspólne spotkanie przy świątecznym stole wypadło tak jak chciałyśmy:) Cieszę się, że są nauczyciele, którzy podążają tą samą edukacyjną drogą i nie boją się działać "po swojemu". Dzięki temu dwie klasy, a w tym różne zadania, śpiewanie kolęd, wymiana kartek świątecznych, dzielenie się opłatkiem, dekorowanie choinki hasłami-wartościami stało się możliwe. Myślę, że dzieciaki będą miały co wspominać, ale…ale… gdyby nie Rodzice…nie byłoby tego! Dziękuję za zaangażowanie i pomoc!
8. Życzliwość
Tak, dobro wraca! Jakkolwiek trywialnie to nie brzmi 🙂 Wypisałam więc kartki z życzeniami dla moich uczniów… Nie było łatwo gdyż charakter pisma mam jaki mam 😉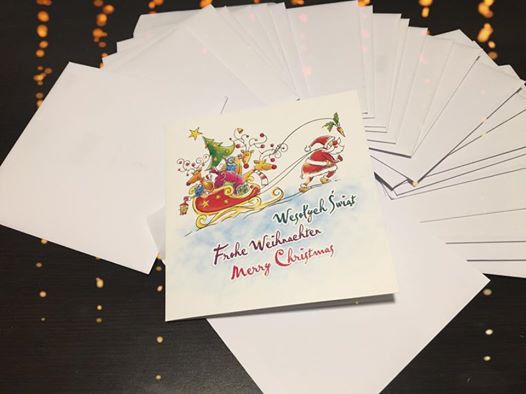 Nie ma co ukrywać – biegnę przez życie, na pełnych obrotach, tu warsztaty, tam integracja! Ten rok pełen był niespodzianek! A grudzień miesiącem, w którym można sobie było pozwolić na takie miłe spotkania. Jestem wdzięczna, ze mam w całej Polsce znajomych, którzy wspierają i pomagają. Cieplutko wszystkich pozdrawiam. Życzę Wesołych Świąt i wspaniałego 2017 🙂
Jeśli macie jakieś przemyślenia dotyczące mijającego roku, podziel się nimi z nami w komentarzu 🙂 Czekam na Wasze refleksje 🙂