Jak zorganizować niezapomniane powitanie roku szkolnego? Mam na to swój hollywoodzki sposób. 
Wielkimi krokami zbliżamy się do  nowego roku szkolnego. Co to oznacza dla nauczyciela? Hmm… Myślę, że dla każdego coś innego… Zgodzicie się ze mną, że  rozpoczęcie roku szkolnego można uczcić na wiele sposobów? Skromnie lub… z nutką wariacji, fantazji. Jak myślicie, którą drogą pójdę? Oczywiście, że wybieram drugą opcję gdyż zabawa to najlepsza forma nauki i integracji zespołu.
Co to oznacza dla moich uczniów?
Wielką frajdę i myślę, że miłe zaskoczenie. Tak więc sobie wymyśliłam, że moje spotkanie w tym dniu będzie zjawiskowe! A pomysły, które zaproponuję powinny wywołać uśmiech i radość na twarzy dziecka. Bo przecież o to chodzi! No, to zaczynamy!
Tytuł mojego projektu, a może planu to powitanie uczniów w stylu "Hollywood". Większości z nas słowo Hollywood kojarzy się z przepychem, gwiazdami. Nie, nie …żadnych dziennikarzy, żadnego show! Jednak dla mnie to słowo kluczowe, które zainspirowało mnie do tego, aby zorganizować dzień pełen wrażeń.  Pracując nad wystrojem sali wpadłam na genialny pomysł.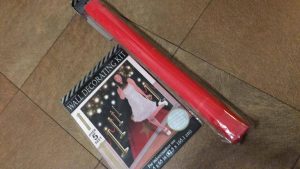 Rozpoczęłam poszukiwania czerwonego dywanu, który będzie prowadził moich uczniów prosto do sali ze ścienną dekoracją współgrającą z czerwonym dywanem. Mam zarówno dywan jak i dekorację, więc idziemy dalej z pomysłami. Kolejnym etapem działań jest przygotowanie  gwiazdek, które będą wycięte z żółtego papieru.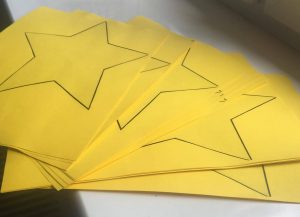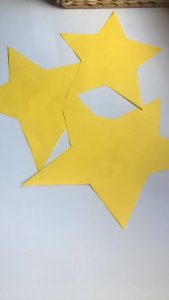 Ilu uczniów tyle gwiazd,  na których umieszczę imiona dzieci, a żeby było ciekawiej – zapisane od tyłu! Ich zadaniem będzie odnaleźć swoją gwiazdę.  Oczywiście kto ją odszuka, ten otrzyma skromny upominek – ołówek z krótką notatką typu "We are going to have a bright year! Love, Ewa!"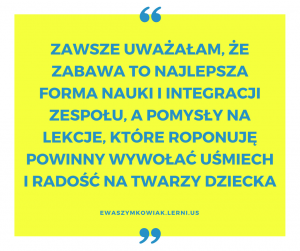 A co nas czeka w sali?
Piosenka, którą znalazłam w necie "Back to school" oraz podoczepiane na tablicy balony, na których uczeń pisakiem zapisze swoje imię. Będzie to symbol naszego zespołu. Balony ułożone będą w kształcie kwiatka.
To nie koniec niespodzianek! Na ławkach pojawią się plany lekcji w kształcie Oskara. Na zakończenie krótkiego spotkania pojawi się  ramka wykonana z kartonu z napisem "The first day of school", którą ozdobię najlepiej jak potrafię. Bo wiem, że większość dzieci  na pamiątkę zrobi sobie zdjęcie.  No, to dzieła kochani!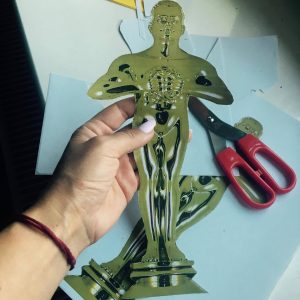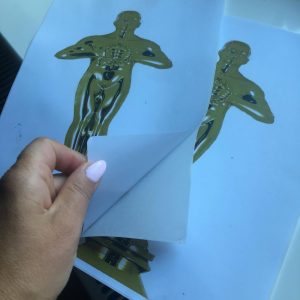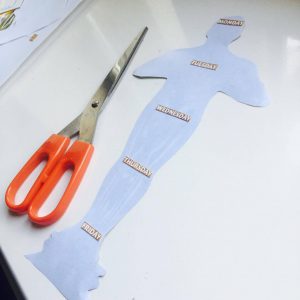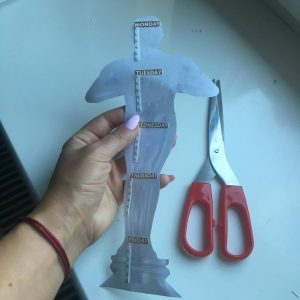 Fotorelacja  oraz krótkie zapiski dotyczące pierwszego dnia w szkole pojawią się w późniejszym czasie 🙂 Trzymajcie kciuki! A Wy, co szykujecie na pierwsze zajęcia?