Poszerzanie wiedzy dzieci na temat Wielkiej Brytanii poprzez zapoznanie uczniów z elementami krajobrazu i architektury Londynu oraz zapoznanie uczniów ze słownictwem związanym z charakterystycznymi dla Londynu elementami architektury i krajobrazu. Post bierze udział w akcji High Five, którą polecam Wam z całego serca.Na końcu tekstu znajdziecie pozostałe blogi biorące udział w tejże akcji.
 "Tym razem zabiorę was, właśnie tam.." hmm.. tak sobie tylko  podśpiewuję …tak na marginesie, kto jest autorem tych słów bo nie pamiętam…Dobrze, po krótkim wstępie już piszę gdzie. Biorę was na wycieczkę do Londynu na wakacje. "London w 5 smakach" hurra, hurra…to mój temat number one. Cieszycie się, na pewno tak jak ja bo…jedziemy do Londynu czyli wspólnie z uczniami przygotowujemy listę  potrzebnych przedmiotów od ubrań po bilety czyli temat możemy wykorzystać na kilka godzin lekcyjnych. Przy okazji powtórzymy nazwy ubioru, wskazywanie drogi itd. Gotowi, spakowani, bilety już  kupione… no to start..
Postanowiłam podzielić  się z wami  ciekawym  scenariuszem, który narodził się w mojej głowie dość dawno temu  ale  nigdy  wcześniej nie miałam okazji wam go przedstawić.
Ściągnij karty pracy, jakie przygotowałam, by lekcja była całością:
No  więc za chwilę wakacje, wakacje … A wakacje się kojarzą nam się.. .. oczywiście z odpoczynkiem, z podróżowaniem. Dlatego też postanowiłam wprowadzić serię zajęć o tematyce  kulturowej   gdyż pod koniec roku szkolnego moim  celem jest  rozwijać i wzbudzać w uczniach  jeszcze większą  ciekawość poznawania świata oraz jeszcze bardziej poszerzać  wiedzę  uczniów  na temat krajów anglojęzycznych.  I tak narodził się "London w 5 smakach"  czyli nasze szkolne przygotowania  do wakacji oczywiście tylko palcem po mapie. To jest dopiero wycieczka ale myślę, że będzie  pełna przygód . Zaraz się przekonacie. No więc zajęcia rozpoczynamy od przywitania naszych uczniów. Zawsze wykorzystuję rymowankę, której nie jestem autorem i nie mam pojęcia gdzie ja usłyszałam. Może wy podpowiecie kto jest autorem tych słów:
1,2,3,4 make a circle on the floor.
5,6,7,8 cross your legs, sit up straight.
Jest to rymowanka, która ułatwia mi proces organizacyjny.
Nadeszła wielka chwila wspólnie z dziećmi przygotowujemy się do podróży więc pytam moich uczniów What do we need to go to the London?  Jest to pytanie, które wywołuje dużo emocji gdyż odpowiedzi tyle ile dzieci więc pamiętajmy o  zachowaniu dyscypliny. Rozpoczynamy od pakowania walizki , a co za tym idzie możemy powtórzyć nazwy garderoby  mówiąc do ucznia "Pack your shoes. Pack your scarf. Pack your hat. Zabawa trwa do momentu , aż wyczerpie nam się zestaw obrazków. Następnie pytamy naszych uczniów Are your suitcases ready? Jeśli tak to  przyszedł czas na zbudowanie samolotu z krzeseł oczywiście o ile jest tak możliwość, jeżeli nie, to uczniowie ustawiają się w jeden wielki samolot lub możemy wyciąć z kartonu i pomalować ale to wymaga poświecenia od nas naszego cennego czasu. Wszystko zależy od naszej kreatywności oraz podejścia do tematu.
Londyn w 5 smakach należy do nas.
Smak nr 1 – naszą przygodę rozpoczynamy od pierwszego i najważniejszego smaku czyli pokazaniu uczniom, gdzie na mapie świata znajduje się Wielka Brytania. Wykorzystujemy przygotowane karty obrazkowe w celu zapoznania uczniów z zabytkami znajdującymi się w Londynie.
Smak nr 2 – degustowanie potraw charakterystycznych dla kraju anglojęzycznego, co to oznacza dla nas nauczycieli ..przygotowanie angielskiej herbatki oraz ciasteczek, które uczniowie wspólnie z nami degustują, np.  tea with biscuits.)
Smak nr 3 – omawiamy charakterystyczną dla tego rejonu pogodę.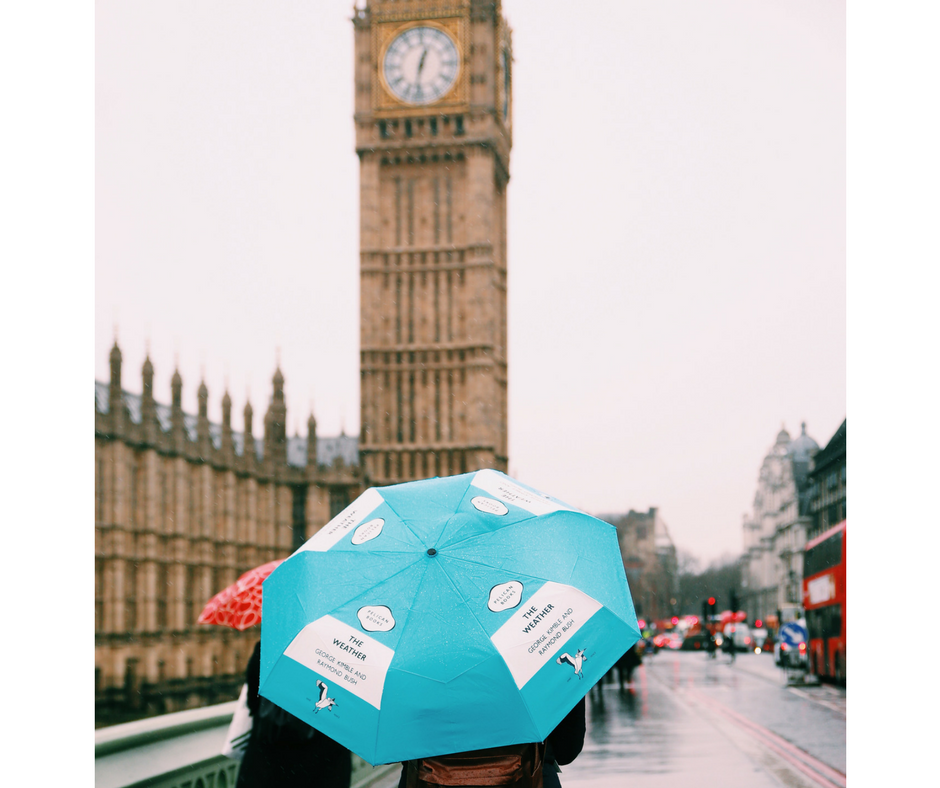 Smak nr 4 – poszukiwanie określonych zabytków czyli wykorzystanie proponowanych puzzle, które umieściłam jako karty pracy.
Smak nr 5– zabawa Directions – poszukiwanie drogi. Rozkładamy przygotowane karty obrazkowe następnie pokazujemy dzieciom, co oznaczają polecenia up, down, left, right, turn around. Nauczyciel przekazuje  dzieciom instrukcję na temat tego, jak mają się poruszyć i w którą stronę pójść aby  trafić do celu.
A na koniec zajęć proponujemy uczniom wykonanie pracy plastycznej. Uczniowie wyklejają małymi kawałkami bibuły lub papieru mapę Wielkiej Brytanii jako podsumowanie zajęć.
A teraz koniecznie odwiedźcie także pozostałe blogi biorące udział w akcji, by poznać jeszcze więcej pomysłów na gry i zabawy:
Head Full of Ideas – http://www.fullofideas.pl/2017/01/5-najlepszych-pomysow-na-zabawy-dla-2.html
Hangielski – http://hangielski.blogspot.com/2017/01/5-najlepszych-pomysow-na-zabawy-dla-3.html
Małe Duże – http://www.male-duze.pl/2017/01/5-gier-dla-4-latkow.html
Extrovertic4kids – http://extrovertic4kids.blogspot.com/2017/01/5-najlepszych-gier-i-zabaw-dla-zerowki.html
English Freak – http://ilonapp.blogspot.com/2017/01/top-5-gier-i-zabaw-dla-6-i-7-latkow-top.html
Pomysły przy tablicy – https://pomyslyprzytablicy.wordpress.com/2017/01/14/5-najlepszych-gier-dla-klas-2-3-szkoly-podstawowej
FirstIdeaKit – http://firstideakit.blogspot.com/2017/01/najlepsze-gry-i-zabawy-dla-klas-4-6.html
Englishake – http://englishake.pl/2017/01/14/gry-jezykowe-dla-mlodziezy/
Londonopoly – http://londonopoly.blogspot.com/2017/01/5-najlepszych-gier-i-zabaw-na-zajecia.html
Hummingbird ELS – http://hummingbirdels.blogspot.com/2017/01/high-5-czyli-5-najlepszych-pomysow-na.html
Funglish – http://waytomasterenglish.blogspot.com/2017/01/5-najlepszych-gier-i-zabaw-dla-dorosych.html
Co sądzicie o tych pomysłach?
Ewa